'A Better Dimapur' project under the BJYM in collaboration with DMC inaugurated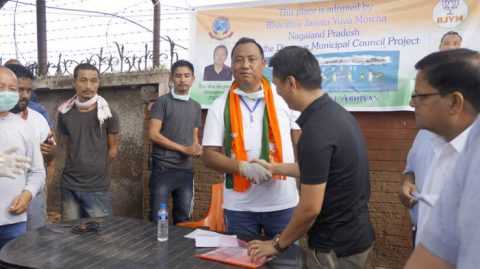 'A Better Dimapur' project under the BJYM in collaboration with the Dimapur Municipal Council (DMC) was inaugurated here, outside Dimapur Club Midland by Deputy Commissioner, Dimapur Sushil Kumar Patel, on October 2. The adoption area for beautification is under the initiative of Swachh Bharat Abhiyan.
Giving greetings, Minister Health & Family Welfare, GoN, S Pangnyu Phom urged the gathering to be dedicated laborers and make Dimapur clean and green, as Mahatma Gandhi envisioned the country to be. He further said that the state was fortunate to be a part of one of the tallest leaders of the world, and urged the people, "we should start from Dimapur. As a mirror of the Nagas, let us be an example to other Nagas." He concluded by ushering in that 'though small in crowd, let our activities spread to other parts of Nagaland.'
Advisor, Power & Chairman DPDB, Tovihoto Ayemi appreciated the gathering of various organizations, communities and leaders of various wards for a common mission. This function was a multiple programme of inauguration of the project, commemoration of Mahatma Gandhi and BJYM in line with Swachhata hi Seva celebrating Swachh Bharat Abhiyan, he maintained, and further urged the people to take this cleanliness mission as a lifestyle. Ayemi lamented that one may live in a clean home and wear clean clothes but we come out in a street where it is dirty, with sewage and drainage system in poor state. He reminded the people that, "if we have a clean environment, we're having a healthy life."
The Administrator, DMC Moa Sangtam expressed happiness for BJP being the first party to join the DMC's initiative for the service of the people. He reminded the gathering not to depend on the Government alone and further assured support to BJYM.
Other short speeches were delivered by Khevishe Achumi, State Secretary BJP & Coordinator Swachh Bharat who applauded the good example shown through this initiative for the future generations; Andrew Ahoto, Chairman (LFHSS) encouraged the students community to step up and discourage littering by keeping strict provisions for fine.
While the President, BJYM Nagaland, Benjamin said that this project to beautify the area may take two to three months. On further enquiry, he maintained that the project is sustained by the party itself at present. Earlier memorandum of understanding was signed between the President, BJYM and the Administrator, DMC.
The Presidents of various communities – Jain Samaj, Bengali Samaj, Sikh Samaj, Rotary Club, Muslim Council, Vivekananda Welfare Association and Team Clean Dimapur shared their vision of a cleaner city and a cleaner world.
Vote of thanks was delivered by Prabhakar Yadav, Treasurer, BJYM Nagaland.
Source : Morung Express
Article Link : http://morungexpress.com/dimapur-mirror-of-the-nagas/
BJYM adopts area for beautification and maintenance in Dimapur
State Bharatiya Janata Yuva Morcha (BJYM) signed a memorandum of understanding (MoU) with the Dimapur Municipal Council (DMC) to adopt a stretch of land alongside PWD road near Dimapur Club to mark the culmination of the state-wide 'Swatchta Hi Seva'  on Tuesday.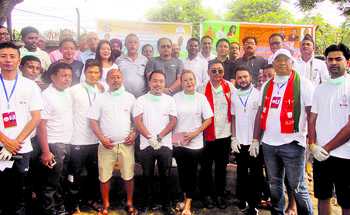 The MoU was signed by BJYM president Benjamin Yepthomi and DMC administrator, Moa Sangtam.
As part of the DMC's project– "A better Dimapur", BJYM has taken the responsibility to beautify and maintain the adopted area which has for long been a dumping zone for people in the vicinity.
Speaking on the occasion as the special guest, minister of Health and Family Welfare, S. Pangnyu Phom appealed to party workers, the district administration, various NGOs and local bodies to unite to keep the city clean and green.
Stating that it was the vision of Mahatma Gandhi to keep the country green and clean, Pangnyu said the Narendra Modi led government at the centre also has a lot of visions for the country and those dreams can be achieved through the concerted efforts of the people.
Advisor for Power, Tovihoto Ayemi who also spoke on the occasion, appealed to those present and the public at large to make the Swacthta mission a lifestyle, adding that a clean environment will ensure a healthy life.
On the Swatch Bharat initiative, he said there have been changes in the last 4 years brought about by the active participation of stakeholders and citizens.
DMC administrator, Moa Sangtam also called for a community participation to keep Dimapur clean. Stating that people cannot depend on the district administration alone, he said the people have to do their part too.
BJP state secretary and coordinator of Swachh Bharat, Khevishe Achumi, his address said that the initiative of the BJYM serves as a precedent for other political parties to follow suit.
He added that Swatch Bharat has nothing to do with a party or communal politics but awakening people to a hygienic lifestyle.
The programme began with an inauguration of the site by Deputy Commissioner of Dimapur, Sushil Kumar Patel.
Invocation prayer was delivered by Senti Imchen while the programme was chaired by state BJYM vice president, Inoto Kinimi.
A host BJP youth wing functionaries led by its president Benjami Yepthomi and leaders from various communities and prominent personalities attended the programme.
Organizations that took part include– Livingstone Foundation Higher Secondary School, Team Clean Dimapur, BJP party workers, Jain Samaj, Bengali Samaj, Sikh Samaj, Rotary Club, Nagaland Bhojpuri Samaj, Gorkha Hindu Milan Sewa Sangh, Gorkha Youth Club Dimapur and Muslim Council Dimapur.
Source : Nagaland Post
Article Link : http://www.nagalandpost.com/bjym-adopts-area-for-beautification-and-maintenance-in-dimapur/182615.html